Spanner | 06-06-2008, 16.51
Trax & Tea
With many of the European hotels going mad for Euro 2008, the three new Football Trax have now been released in the Italian and Spanish hotels for 3 credits each.

Also, 2 weeks ago saw the new Japanese furniture hit the catalogues of many hotels world-wide, and today saw another new addition to the Japanese range; Japanese Tea Machine being released in the Spanish and French hotels, maybe else where too. On sale for 5 credits in Spain and 6 in France.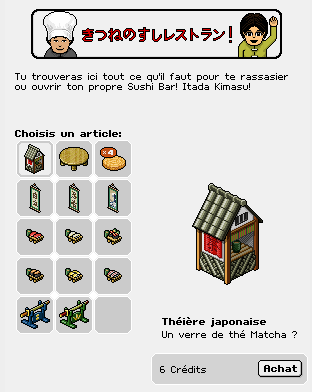 06 Jun. 2008, 17:19
LEGOLAS-KLARA wrote:
Fair price for it ;).
06 Jun. 2008, 17:21
Star-Fighter wrote:
Now that was fast, haha :) Price is not bad, yay!
06 Jun. 2008, 17:22
Spanner wrote:
Shame it still gives out carrots :(
06 Jun. 2008, 19:05
Emmerrrrrrr wrote:
Carrots? I think that's at least a bit weird :l
06 Jun. 2008, 21:06
Magnea wrote:
At .fr it gives out "Green tea", looks abit strange and doesn't work in the big rooms (you hold nothing)...
06 Jun. 2008, 21:18
Spanner wrote:
ooh nice find, will have to visit .fr again :D
07 Jun. 2008, 10:29
Laurensh1 wrote:
Good find! I like the Japanese House... :P
07 Jun. 2008, 17:43
Gible wrote:
I like that house! in Spanish buy you it for 5 credits :o
11 Jun. 2008, 22:05
Manu wrote:
"Japanese teapot" in English Ô.o
Your words:
You have to be registered and logged in to comment. To log in, check here.