Emmerrrrrrr | 23-01-2012, 13.38
A hat on a hat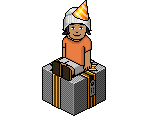 Guess what? That's right, today we're celebrating a birthday as well! We all wish JOLE a very happy birthday, with lots of presents. And although he's sort of busy now, hopefully he'll find some time to party today. Congratulations :]





23 Jan. 2012, 15:39
Star-Fighter wrote:
Happy birthday!!
23 Jan. 2012, 15:44
Laurensh1 wrote:
Happy birthday Jole! :)
23 Jan. 2012, 21:31
JOLE wrote:
yes busy but alive. ;-)
only 4 weeks until my final exams :O

thanks for your wishes and eventhough i'm not that often here anymore, i came today because i knew your would remember my birthday :-)
24 Jan. 2012, 15:00
Emmerrrrrrr wrote:
Cool, you're welcome, best of luck with your exams :]
28 Jan. 2012, 20:01
Luucaz wrote:
Late reply, but may next year be less busy and exams behind you ;).
30 Jan. 2012, 02:42
cjames wrote:
Another late birthday from me too :-)
Your words:
You have to be registered and logged in to comment. To log in, check here.