Luucaz | 24-05-2012, 20.44
Do us (scratch: me) a little favor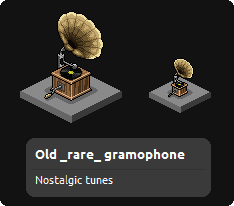 The favor would be rather for me, agreed. Straypixels, the pixel competition, moved to Facebook. Might be the reason those shares keep losing value, it doesn't belong there :p. While there they're doing this competition, make a piece of furniture, and if you win, get it made for virtual real(ity). That's pretty awesome in itself, and a vote is up now. I'm not on Facebook, so it took Bubblejuice(.org)'s Deegers on Twitter to point me to it. To find some pretty awesome designs, including one by our crew member (who does his finest stuff in the shadows) Star-Fighter. So true, I'm biased somewhat, but this gramophone NEEDS to be made. So please, if you're on FB, vote for it: here. So I can have one (and then we'll get you a new page here pretty soon :p).


27 May. 2012, 22:15
Star-Fighter wrote:
Was in Sweden for the weekend and just came back home to see this, oh you! I don't think I have any chance of getting in the top 3 anymore but hey, I gave it a shot. Thanks for the support:)

...might have an opinion or two about this whole voting thing though...
Your words:
You have to be registered and logged in to comment. To log in, check here.