Luucaz | 30-10-2012
Habbo 12, us 6 - something real
October 30, 2006 we came online. And still not done. Well, not so sure we fit in nicely with recent Habbo/Sulake developments, but we still like documenting what happened inside them hotel walls over the years. And outside, for once. We now have a page on Habbo stuff in real life - we called it 'real'. Now what shall we spend next year on?

PS. Due to huge amount of pictures needing to load, sometimes scrollbars are partly missing, it seems. Reload page once to fix. Looking for a solution. Edit: fixed, I think. If not, comment.
Luucaz | 29-10-2012
Lucky still early in Canada


..so just in time for some good wishes for Flamed, who made it through another year, and hopefully many more to come. Wishes you all the best, shiny things and more. Happy birthday !


Luucaz | 24-09-2012
Habbo Ages
It's been offline for a while, 'Habbo Ages', site made by P1ckle. A historic archive of facts and screenshots from early (UK) Habbo Hotel days. You can browse it for days and still find something you didn't know every time. With his kind permission we put it back online - http://habboages.habborator.org/. Because you look insanely good today and deserve a look!

PS. P1ckle notes the site was made way back, with MS Frontpage (I've been there too, we all start somewhere), and can be a bit messy in current browsers. Ignore, just read and check the views. At least someone took it upon him to archive all these things, so thoroughly. We learned a great deal from that site, so can you.

cjames | 21-09-2012
So you think you can draw?
Well that's good because Sulake are looking for someone who can draw, with Pixels.

The perfect candidate can speak and read English (you're doing good so far... although judging by some of Sulakes *frequent* news updates... somebody lied on their application form, tsk!), has a degree in something arty, worked in web development for two years *and* can use Adobe's Creative Suites.

Is that you? Cool - you'll be working in the London Office:

"Planning, graphic design, test and document game elements in Habbo, such as furniture lines, clothing, effects, landing view pages, user interface design"

No sweat! Who would you be working with then? Well not Callie that's for sure, or anybody we know for that fact.

So does this mean Sulake are about to be a man down? (please don't leave NotMiceElf, you're all we have!) or that it's just a lot easier to have your graphics guy in London, rather than LA? Who knows.

Perhaps if Sulake shredded it's top-heavy structure it could afford to get somebody to post some news? Maybe I'm just a little bias and a little too harsh... 14 days isn't that long and surely their twitter action makes up for that.... Right? Perhaps the Mayans where right, the Habbocalypse could be fast approaching us after all.

Ohh! I almost forgot, you can apply for the job here!
Emmerrrrrrr | 14-09-2012
Honey, I shrunk the Habbos

I noticed something when I was using the Habbo Imager today. Thantos' Habbo avatar looked a bit short. Maybe something is off in the Imager. But it's probably just that feeling you get when you notice how small the new kids at your school are. You can't imagine that you've ever been as short as them, because you've become a lot taller yourself. Hm, now I have an image in my head of Habbos growing taller as they visit the hotel longer. That would be so weird - nevermind.

I guess it's not a big surprise what I was using that Imager for: it's Thantos' birthday today! We all wish him a great day, and many birthdays to follow.
Happy birthday! :D



Emmerrrrrrr | 26-08-2012
Older and wiser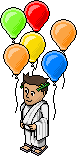 It's not as quiet as usual down in our favourite basement. We're catching up with a lot of the crew members. No, we're not there to plan new Habborator projects. Even though this site is what brought us together, the friendship is about a lot more than just updating and creating pages (but of course I do loooove new Habborator stuff). It's been a while since we've talked and everyone has just become so wise! We should probably make a life lessons page. Because who needs badges if you can get wisdom? Or maybe just a Wisdom Achievement?

Anyway, I'll get to the point. Zatley isn't in the basement, but he has a very good excuse: it's his birthday right now! Yay! We hope he'll have an amazing day and I'm sure he's also becoming wiser every year. Happy birthday sir :]




cjames | 21-07-2012
Worth a read
Habbo Times have recently released a three part interview of former Sulake Germany employees KAWU and Landana.

The interview gives a unique insight into the Fuse, and what it's really like to run a virtual hotel. I highly recommend that anyone interested n the current happenings of the Habboverse give the interview a read, as it's very rare we get to see Sulake from a staff perspective. The interview touches upon some very interesting points and uncovers that the mergers and layoffs where not just a shock for the Habbo's, but the for staff too - who'd quite literally gone from being employed to redundant in a matter of minutes. It also explains why joint-ventre hotels like the Netherlands and France haven't yet got the cut... and offers the rather pessimistic outlook that former staff have on the future of Habbo it's self.

It's quite brave for KAWU and Landana to speak out on such matters, and for HabboTimes to publish such an article and it's 100% worth a read...

Hier Klicken, um das Interview auf Deutsch zu lesen. Can't speak german? No problem 'cause Google's got your back, click here to read it in [Google translated] English.

Tschüs!