Rare Furni -

Scripted Furni

-
Random Facts

-

HOME
R
are Furniture Guide
H
otel Manager birthday gifts:



These were given out to Habbos who were registered before May 28 2002. These gifts were only given to Habbos who visited again before July 31 2002.

The gifts were given out to celebrate the Hotel Manager's birthday on June 8 2002. There were approximately 1.75 million Habbos registered in May 2002. Since only 10% of Habbos were regular visitors, this means that approximately 175,000 of these gifts were given out.

Statistically this also means that 1/3 of these gifts were a Throne, thereby meaning that roughly 58,000 Thrones, Holopods and Samovars exist on the Hotel to this day!

This is obviously a rough estimation due to the fact that Habbo Management introduce more and more of these rares week by week in competitions.
Though these items are expensive, they are by no means 'Rare'.

Edit (23/1/05):
These were on sale yesterday due to a huge mistake during an update. Nearly every rare item ever released was sold temporarily.

(Small trophies were available to buy for a mere 1 Habbo Credit!)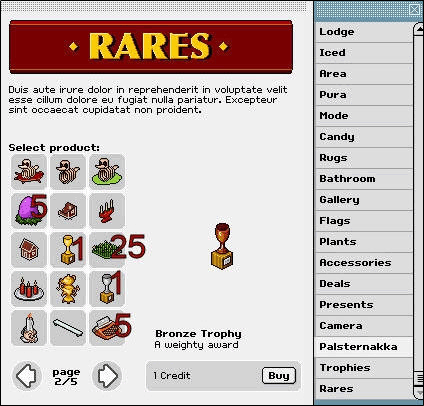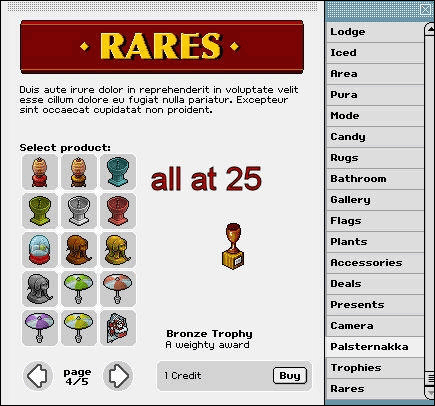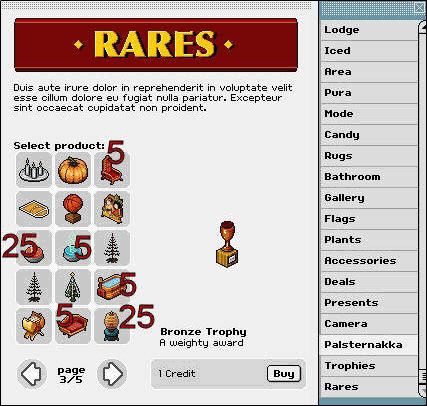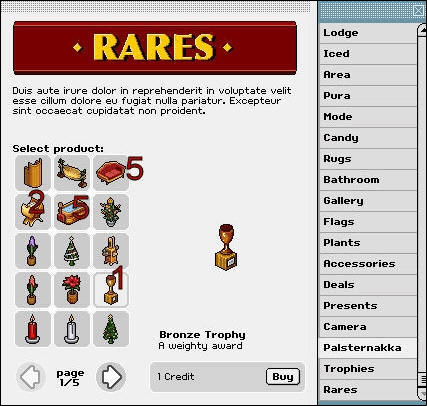 Items in the Catalogue Rares Collection
These items have all been on sale for
14 DAYS in the catalogue:
Hologirl -

the 1st in the collection, on sale during November - December 2002. Released in the 'Accessories' section of the catalogue.

Holiday Romance -

the 2nd item. On sale around Valentine's Day 2003. The first item released in the 'Rares' section of the catalogue.

Aloe Vera -

the 3rd item. Formerly known as Small Plant. Was a scripted furniture, on sale until March 31, 2003.


Petal Patch -

the 4th item. On sale during April 2003




Hammock -

the 5th item. On sale during May 2003




Parasol -

the 6th item. There are four colours. Green, Yellow and briefly Violet Parasols were on sale in the Catalogue during June 2003. The orange parasol was on sale during this period, but only very briefly for around 2-3 minutes. It is believed that only 12 orange parasols were ever sold, fetching prices as high as 40+ Thrones!




Bird Bath -

the 7th item. There are four colours. Green and Grey ones were on sale in the Catalogue during July 2003. The Red Bird Bath was also on sale briefly for literally just minutes. Blue Bird Bath has never been publicly released.

"Evo"

was the first Habbo to display the Bird Baths.


Elephant Statue -

the 8th item. There are three colours. Bronze and Silver ones were on sale in the Catalogue during August 2003. The Gold Elephant Statue was given out in a competition in 2003. The winner of this Elephant was

"OneManGang"





Beehive Lamp -

9th item. There are three colours. Blue and Red ones were on sale in the Catalogue during September 2003. The Yellow Beehive is another rare item that was given out in a competition in 2003.


Lapland Greetings -

10th item. On sale in the Catalogue during December 2003.
Seasonal
items:


These are on sale in the run up to Christmas, Easter, Valentine's Day and Halloween. They appear in their own section of the Catalogue and the whole section is removed when the holiday is over.

In 2001, any furniture bought from the Halloween section of the catalogue was removed after the holiday had finished, meaning all the original 'Habboween' furniture from 2001 no longer exists.

On the run up to Christmas 2001, it was decided that the seasonal furniture that would be released during the Christmas holiday would not be deleted after the holiday, as did the Halloween furniture previously. This is why in 2002, the prices of both Christmas 2001 and Easter 2002 seasonal furniture shot up to ridiculous highs. The 'Christmas Duck' and other Christmas seasonals were effectively the beginning of rare trading on Habbo UK and demanded a hefty price of 2-5 Thrones in October 2002. The 'Popup-Egg' and other Easter 2002 seasonals sold for a similar price, however we must remember that the Throne was worth a mere 10 credits of furniture in October-November 2002.

When Christmas seasonals were released back into the catalogue during Holiday 2002, the trade market immediately collapsed and people then assumed that Easter furniture would be released in the following Easter; correct they were!.
All the seasonal furniture fell back to sensible prices, though the Throne began to gain popularity as a desirable item and has steadily increased in price ever since!

The following image is a screenshot of the Halloween section of the catalogue in October 2002, hense to avoid confusion with the previous year, it now states that the furniture will NOT be getting deleted after the Halloween period this year!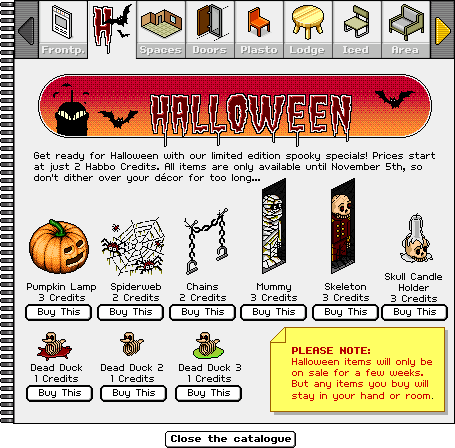 Edit (14/12/07):

4 New ranges of Christmas seasonals have hit the catalogue during Christmas 2007. The below image is an example of the 'Santa-Typical' range.
These new items are all part of the 'Release 18.0' update.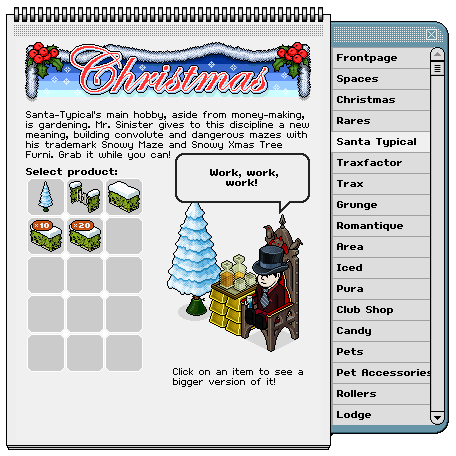 Competition
prizes:









These items have never been on sale - only competition winners were given them.

Many of these prizes were given out in 'Magic Monday' or 'Funky Friday' competitions:

HABBO Trophies without writing on them (Bronze, Silver and Gold)
Brown Parasol
Blue Birdbath
Red Birdbath
Gold Elephant Statue
Yellow Beehive Lamp
Spyro Egg

Typewriters - only given out to Habbos who get a poem or article published in one of the hotel's newsletters.